The origins of electric screw press
Author: haloong Time: 2016-12-29 13:37:53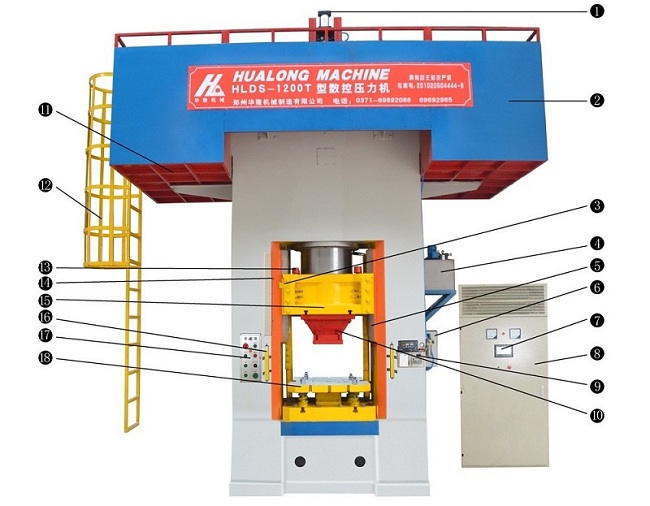 1. Braking device 2. Maintenance platform 3. Limit switch stop iron 4. Forced lubrication system
5. Guide rail 6. Braking and ejection device 7. Servo control cabinet touching screen
8. Servo control cabinet 9. Digital electric oil feeding system 10. Secondary hammer
11. Water-cooled synchronous servo motor 12. Maintenance nursing ladder
13. Bumper block 14. Limit switch 15.Slider 16. Safety grating
17.Intelligent push button station 18. Floating pressing workbench


the old friction press

:Forging industry usually adopt the equipment of friction press,but this kind of device has serious loss in friction,high consumption,low efficiency ,high noisy and high intensity labor for workers.
and how to choose the kind of not only energy saving but also environment friendship press machine?ok,powerful recommend form haloong machinery manufacturer .

change in 1990s:In 1999 the forging friction press was included in the state "eliminate backward production capacity, process and product catalog", requiring mandatory phase-out.
in view of this situation,our r&d team found in speed regulation system of switched reluctance drive electric screw press,digital control the speed and on-off,motion of electric screw press and blow strength.what's more,we also design the whole structure of electric screw press

advantage of spiral pressure:Experiment indicates that the function of spiral pressure meet the requirements of different energy and speed, and realization digital control of the equipment.this electric screw press of switched reluctance speed regulation type can be controled flexible and widely used in multi kinds of material ,variety of process,easy to operate, low power consumption, few wear parts, good safety performance, stable quality and good product consistency, which is the revolutionary replacement product for refractory material industry. The CNC screw press solved in this field for a long time is difficult to solve the technical problem, can be used for such equipment for energy saving transformation, upgrading of CNC and the information transformation

Haloong press machine:Switched reluctance CNC screw press machinery adopts switched reluctance motor as the power system. According to the characteristics of switched reluctance motor, the drive and control system should be changed accordingly. The whole structure consists of switch reluctance motor, belt drive, flywheel, screw, nut, Slider, brake and body composition. Switched reluctance motor can stop frequently and forward and reverse, the starting and stopping speed is fast, and the starting torque is large, the starting current is small, the friction press can remove the double friction disc, the clutch type screw punching press can remove the clutch and its lifting mechanism.
Zhengzhou Haloong Machinery Manufacturing Co., Ltd. is specilized in Servo Press machinery,electric screw press machine,firebrick press machine,refractory brick press machine,metal forging press machine,clay brick press machine,CNC power press
double disk friction press reform for 35years.
email:haloong@haloong.com
Ph:+008613083696911.
tell:+86-371-60121717
wechat:308484547;
skype: crystalmingming;
QQ:308484547