Application value determines price.
Author: Electric Automatic Press Machine, NC Servo Press, Refractory Brick Machine Manufacturer, Supplier China Time: 2016-12-30 12:13
it is believed that many people have heard of

electric screw press machine

, while only a few people actually understand it. In people's impression,

CNC press machine

is just a kind of machine for pressing refractory bricks and forging, but few people will see the machine from the benefit of CNC press. While, seen from the information stated as below, it is believed that people would have a new knowledge for CNC press machine. Here, Haloong shares this article aims to make people understand that the value of CNC press machine is much bigger than its price. Besides, it will also be clearly that do not care too much about its price if you want to choose the best suitable CNC press machine, because this will only make the excellent

CNC press machine

pass by.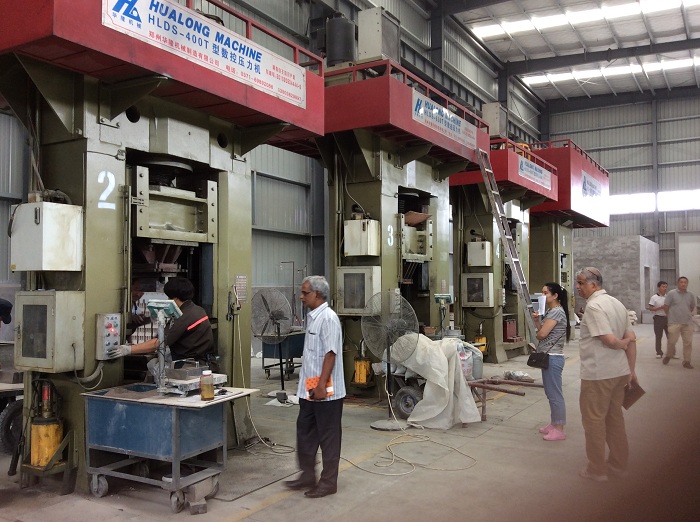 The price of

electric CNC screw press machine

and program controlled electric screw press are based on the importance of their usage. Different function and usage make different price. For example, Haloong's CNC press machine is mainly used for producing refractory bricks, only 2 people operation is ok and will save the worker's salary for about 80 thousand(calculate as 2 groups worker per day). There is big space for choosing operators like women, illiteracy, etc. Only need to press the button for operating the machine, solves the problems of hard to fine operator, operator always obey orders, high salary of operator, missing of punch, etc. Beside, it also has the advantages of power-saving. For material of clay and high alumina, the power-saving is 70%, for magnesia carbon brick, the power-saving is about 50%. Also, the power-saving of air compressor is above 50%.
Along with the wide application of CNC press machine, people begin to focus on the price naturally. Is the price too high or just the same with most of the machines? In fact, these all are not the real value of machine. Each advanced technology product aims to liberate productive forces, lead the industry growth and finally push the development of society. Only use the data of price can not show out the usage and value of CNC press machine. What we learn from economic book is that price shows the value, value determines price and the price of goods will be floating around the price itself. The price of CNC press machine is also the same, the price is not pointless but comes from the huge benefits provided by CNC press machine.
Zhengzhou Haloong Machinery Manufacturing Co., Ltd. is specilized in Servo Press machinery, electric screw press machine,firebrick press machine,refractory brick press machine,metal forging press machine,clay brick press machine,CNC power press,double disk friction press reform for 35years.
email:haloong@haloong.com
Ph:+008613083696911.
tell:+86-371-60121717
wechat:308484547;
skype: crystalmingming;
QQ:308484547