FAQ and Self-diagnosis about press machine to reduce cost
Author: haloong Time: 2017-04-19 16:43:29
Press machine is a kind of Universal forging punch press with Delicate structure,widely using and high efficiency.especially,press machine could be applied to cutting,Cutting, punching, blanking, bending, riveting and forming processes.By applying strong pressure on the metal of the metal blank is plastically deformed and broken into parts processed.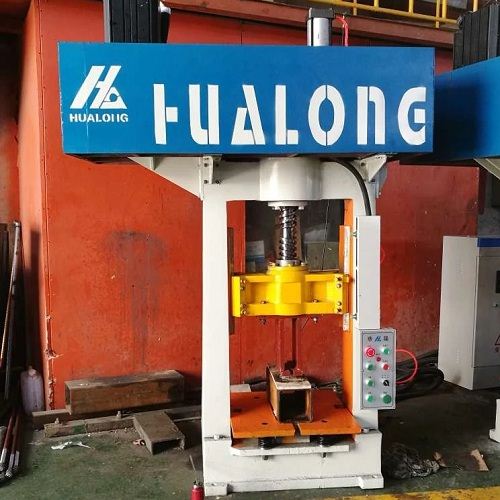 It's necessary to get skill about some FAQ and solutions on press machine.that will not only solve problems timely,but also enhance efficiency and reduce Cost of production.
Slant is The most troublesome problem on forging machinery,which due to the tilted center line,especially The feed baffle is not perpendicular to the compression shaft.The corresponding processing method is to correct the center line and correct the centerline. Clutch does not work, when there is a sharp impact on the phenomenon is because the press working force Rally spring break loose, work tail fracture or work key damage. Replace the tension spring, work keys, adjust the press brake and other devices.
Surface scratches is the most general problem on press machine,although this don't influence normal work,but every problem speak word about the machine nether big or small.If the gap is too small, the pressure wheel surface rough, improper plate color coating, pressure wheel with zinc layer. To make the corresponding adjustment, re-measurement of the gap to just, with Whetstone on the pressure wheel to be smooth to be smooth after the last oil.
Crankshaft bearing of press machine heat may be due to the shaft scraping bad, poor lubrication, re-scratching the copper tile, check the lubrication; from the bearing out of the oil in the oil is the lack of oil, lubricating oil is not clean, this Time need to check the lubrication, open the bearing for cleaning; rail burning is due to the rail clearance is too small lead to poor lubrication, poor contact, the need to re-grinding guide rail, adjust the gap, pay attention to lubrication.
When operating Press machine,the clutch when the clutch is not combined or can not be separated after the elastic bond is too tight, you need to replace the spring, check the combination of grinding gap; clutch when the slider can not stop at the top dead center position, will lead to The tension is not enough, the brake belt is over-worn, the oil on the brake wheel is skipped, the brake spring tension is adjusted, the brake is replaced, the brake belt and the wheel are washed with kerosene.