Automatic Material Weighing and Feeding System promotes the automation of firebrick forming
Author: haloong Time: 2021-12-15 16:46:59
At present, the refractory industry is suffering from multiple pressures such as rising labor costs, soaring raw material prices, and environmental and resource constraints. There is fierce and cruel competition between refractory enterprises. The low efficiency of refractory materials is gradually eliminated, and the high efficiency can survive. The intelligence and industrialization of enterprises are the key to development.
With the development of industrial intelligence, firebrick manufacturing industry is experiencing a great change. Zhengzhou Hualong has so many technical advantages in the refractory industry that it launches the Automatic Material Weighing and Feeding System.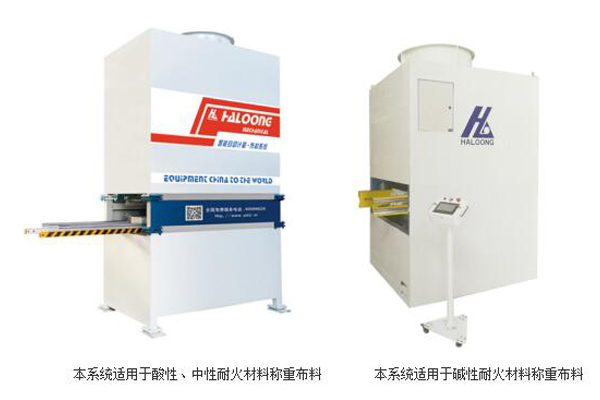 Automatic Material Weighing and Feeding System solves the problems such as slowly cloth , sprinkle material and low precision. Cloth and metering are set up according to their own production process. you need not to worry about the difficult cloth, wasting material, because of the high-speed measurement, as well as accurate cloth precision. The accurate and high-speed cloth will make every brick in your quality error range, that reduced the quantity of unqualified goods greatly. Of course, the use of haolong Automatic Material Weighing and Feeding System will also help you reduce the use of a manual.
Automatic Material Weighing and Feeding System combined with the measurement and packaging system of many industries, specially developed and manufactured for the resistant material industry. And has obtained the national patent certification and the European Union standard CE certification. The system is seamless with CNC electric screw press machine, reduce labor and labor intensity, and can realize brick type, single weight, daily output, monthly output, annual output of the daily report. It provides detailed data reports for enterprises' big data management, which is more convenient for enterprises' efficient and refined management and big data analysis.