Classify of the Electric Screw Press
Author: haloong Time: 2017-03-16 14:42:03
Screw press machine were wildly used for all kinds of high,medium,low-grade refractory material forming,as well for all kinds of metal material forming(cold/hot forging processing,sheet forging parts casting or forging) and so on.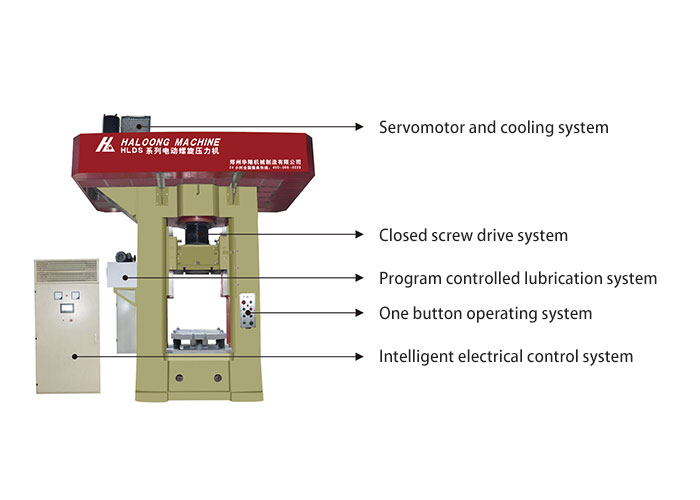 screw presses were mainly classified as fellow:
1.Power screw press Classify by drive mechanism:friction press,electric pres,hydraulic press,clutch press.
2.Power screw press classify by screw pair:three kinds of screw straight line,screw rotation movement,screw helix movement
3.Power screw press classify by number if screw:single screw,double screw,multi screw. 
4.Power screw press classify by application:multi function press,punching press,forging press
5. Power screw press classify by the structure: the anvil block type and non anvil block type.

Screw press of Zhengzhou haloong machinery manufacture co., LTD. Were driven by permanent magnet synchronous servo motor,which consist of with mechanical pats such as framework, flywheel, screw nut, the slider, lubricating mechanism, braking mechanism and electric parts such as servo motor, electric control cabinet, operating button station.
What's more,electric screw press is friction press's best substitute,which were widely used in Refractory shaped products, hand tools, all kinds of brick, tile, and used in metallurgy, building materials, electric power, with refractory material molding products of petrochemical industry, such as high alumina and fireclay bricks, magnesia brick, honeycomb lattice brick, red brick, light brick, special-shaped brick, brick burner combination, carbon brick, brick, phosphate brick, alumina magnesia carbon brick, refractory ball, such as hundreds of bricks. The processing is the preferred equipment in refractory industry.