Several points to consider for the fully automated production line of refractories
Author: haloong Time: 2020-03-16 16:28:28
Automation and intelligentization is the development direction of modern enterprises, many people want to realize the upgrading of new refractory factories, newly built entrepreneurs choose to optimize the fully automatic refractory production line. So, refractory enterprises how to fully consider the realization of the fully automatic production line of refractory?
We summarize the following three spots to provide a brief guide to the construction of automatic refractory production line.
1,Preparation--Plant design
The investors of the refractory automatic production line first plan their own factory building in advance, measure the area of the factory building, and judge whether it is necessary to rebuild the length of refractory material or just to expand the factory building according to the height of the factory building. To plan their own refractory annual output, quarterly output and monthly output. If they are not good at, can be sent to professional refractories automation equipment manufacturers to give specific plans. Haloong machinery equipment co., LTD. Is an excellent automatic refractory production line in China, which is trustworthy.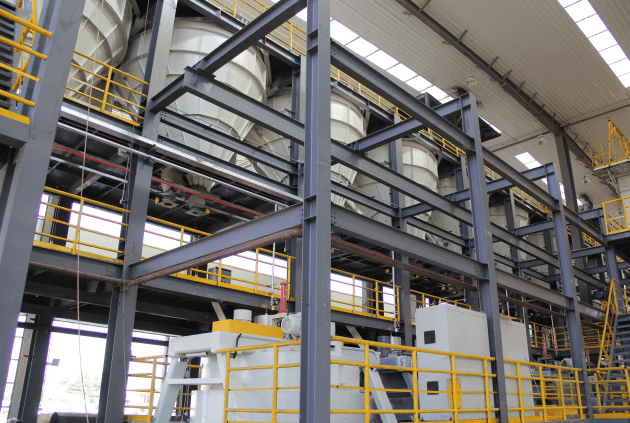 Haloong customer's batching tower site
2,Select and purchase of refractory automatic production line equipment
Automatic batching of refractories: according to the production requirements of refractories, plan the batching building with corresponding batching capacity, material of batching building, location and other details.
Refractories fully automatic fabric link: refractories automatic weighing fabric system can complete automatic weighing fabric, save weighing material and cloth workers.
Refractory fully automatic pressing brick link: refractory enterprises need to use automatic CNC electric screw press, which is an important step. Electric screw press energy control precision, efficient energy saving, intelligent control greatly reduce the labor intensity.
Automatic detection of refractories: the automatic detection system of refractories can be inspected.
Refractory fully automatic palletizing system: connected with firebrick press, manipulator into a set of automatic palletizing system of refractory.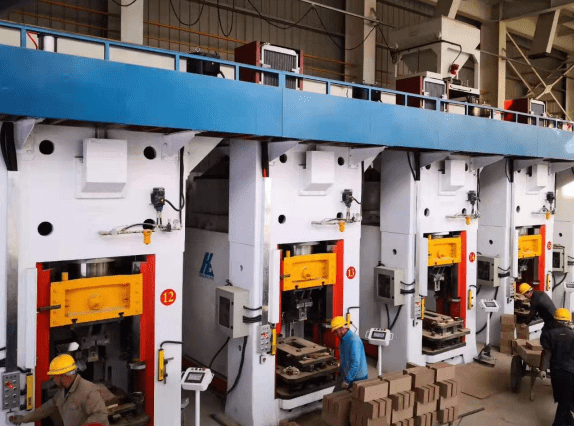 Haloong electric screw press and auto weighing and feeding system
3, Detailed training for professional staff
Fully automatic production line of refractory material is less but better for personnel, professional training is essential, because of the high level of automation, short time of training can meet the needs of personnel.
In a word, if the enterprise wants to upgrade the refractory production line, or new automatic refractory production line, some details need to be considered, the above three points must be considered.