Discussion on recycling of waste magnesia-carbon brick 
Author: haloong Time: 2020-03-24 13:27:10
The waste refractory can be used as secondary material after simple picking and crushing. Generally, a small amount is added to the production process of products with higher quality, or a higher proportion is added to products with low added value such as metallurgical auxiliary materials.
In addition, the waste refractory can be refined and reduced to high quality raw materials. To further improve the quality of products, to obtain high value-added products.
1.Recycled high-quality magnesia-carbon brick
2. Recycled high-quality magnesia-aluminum carbon brick
3. Recycled high-quality magnesia brick and magnesia chrome brick
4. Recycled high-quality fused magnesia
Prospect and conception of reusing refractory after use
Countries all over the world fully realize that the used refractory is a cheap renewable resource, which can significantly improve the economic and social benefits of enterprises and become a valuable resource.magnesia-carbon brick is a good example.The reuse of post-use refractories is also a contribution to environmental protection. We should attach importance to the development and research of post-use refractories and improve the technological content and added value of post-use refractories through scientific and technological development.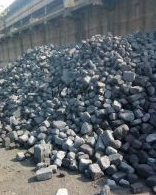 Waste magnesia-carbon brick