The detailed reform about double disk friction press machine
Author: haloong Time: 2016-12-29 11:56:58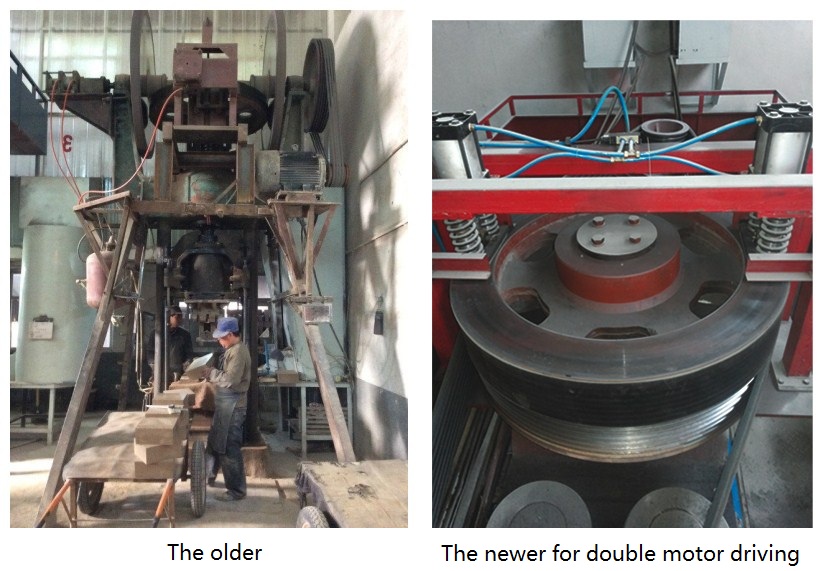 Before reform:the traditional

refractory brick friction press machine

has the disadvantages of difficult in employment, high consumption, high noisy and high intensity labor for workers. After improved to be numerical control press, it has the features of easy to operate, low power consumption, few wear parts, good safety performance, stable quality and good product consistency, which is the revolutionary replacement product for refractory material industry.
Features after improvement
1. High speed machine :after improvement, it can make transmission between high/low speed freely. High efficiency.
2. Cnc control machine:Realization of numerical control, complete simulation of artificial operation, good effect of continuous blowing.
3. Good quality machine:High quality of refractory shaped products, very fast continuous blowing.
4. Good product consistency, high qualified rate.
5. Special brick machine:Can press special type bricks, below 37 holes(includes 37 holes) and porous checker bricks.
6. High precision machine:Precisely energy control, reduce staff and high degree automation.
7. lowest maintenance cost:Short transmission chain, reasonable design of wearing parts and advanced manufacturing process reduce the maintenance costs by 35%.
8. High efficiency machine:High efficiency and energy saving, energy-saving 50% for every ton bricks, reduces the costs.
9. Safety machine:High safety coefficient, four brake devices and equipped with emergency stop button to ensure the effective braking in any condition.
10. Good stability, more smoothly running than traditional motor and switch reluctance motor, very low noise and high precision.
11. ominal pressure and maximum pressure in accordance with the original friction press.
12. The screw doesn't produce radial force after improve, which highly promote the serving life of the die.
Zhengzhou Haloong Machinery Manufacturing Co., Ltd. is specilized in Servo Press machinery,electric screw press machine,firebrick press machine,refractory brick press machine,metal forging press machine,clay brick press machine,CNC power press
double disk friction press reform for 35years.
email:haloong@haloong.com
Ph:+008613083696911.
tell:+86-371-60121717
wechat:308484547;
skype: crystalmingming;
QQ:308484547