II Algorithm-Market economy status
Author: haloong Time: 2016-12-30 11:50
There are three days, in other words, on Dec. 11, the 15th anniversary of accession to the WTO anniversary will come for china. In accordance with the WTO agreement, China should got "full market economy status." naturally after join the organization for 15 year."Full market economy status", this sounds very professional terms, in fact, is a birthright. This name isn't just a kidding, it will bring real benefits in international trade. there is a world of difference between Whether or not a country can receives this state.
For example, if China's full market economy status is recognized by the United States, when the United States want to import color TV from China for anti-dumping investigations, it can only investigate the market price of color TV in China. The results of people excitedly to come and found that China sold only $ 300 color TV, while in the United States there are 350 US dollars price. So unfortunately, dumping allegations are not established, the United States there is no reason to levy high anti-dumping duties.
If the United States does not recognize China as a fully market-oriented country, it will be quite different when conducting an anti-dumping investigation - they will not choose to investigate the price of the color TV market in China because it thinks the price of the Chinese market is distorted, The result is untrue. How to investigate it? Very simple, find a "suitable" alternative country, to this country to investigate the country's color TV market price.
Therefore, the mystery lies in the alternative country's choice.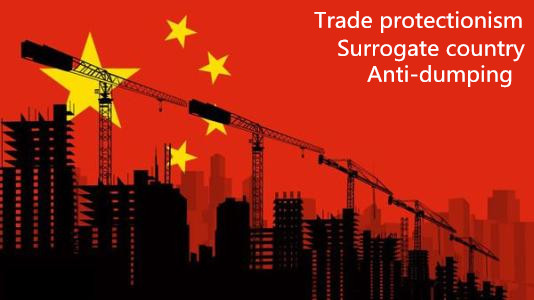 However,most of surrogate country which from anti-dumping investigations are detrimental to China,such as Singapore.the production cost of color TV is far higher than China,then the market price is $500 in the US,and obviously higher than Chinese.perfect,the dumping accusation is valid,The United States can impose huge anti-dumping duties and punitive tariffs on Chinese color TV sets.
Anti-dumping investigations is according to surrogate country which specially direct at China, so the possibility of China's products are levied anti-dumping duties increase.what's more,market economy country is able to put anti-dumping investigations on non-market economy country by surrogate country,but it's no way on the contrary-China is forbidden to choose surrogate country from anti-dumping investigations.in other words,some countries practice trade protectionism factually,but always result in "China is dumping" ,and pay for the bitter pill.