The difference Between Firebrick Press Machine and Normal Br
Author: haloong Time: 2017-01-11 16:54:46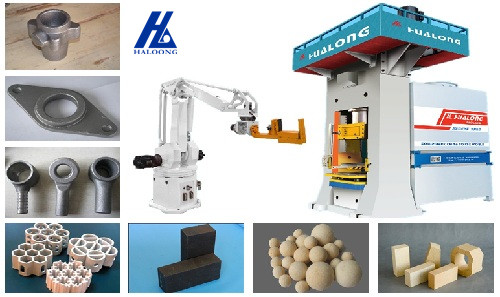 The difference between firebrick press machine and normal brick machine

According to the difference of bricks produced by different machines, the machines are being given different names, such as paving brick machine, hollow brick machine, cement brick machine, extrusion brick machine,

firebrick press machine

, etc. Though all of them are bricks, there are big difference between them.

Non-fired brick machine:
According to usage and characteristics, non-fired brick is divided into hollow brick, cement brick, paving brick, concrete block brick, porous brick, road edge brick, slope-protection brick, riverway brick, square brick, etc., and the customized bridge building brick.
Concrete cushion block machine: for producing concrete cushion blocks.
Block machine: also can be named concrete block machine. As the blocks are all produced by non-fired brick machine and block mold, thus it also be named non-fired block machine. For the blocks are mostly hollow type, it also be named as hollow brick and the machine be named hollow brick machine.
Hollow brick making machine: Machine mainly used for producing hollow bricks, that is composed by non-fired brick machine and hollow brick mold.
Firebrick machine: also be called

press machine

, electric screw press, and double disc friction press machine. No matter NC control, program control, electric or double disc press machine, they are all one of the the necessary shape forming equipment for firebricks. The main difference between firebrick and normal brick are focused the high density and high degree requirements for firebricks. Present, the most advanced equipment for firebrick is servomotor

NC press machine

, which can totally simulate man's operation. Auto firebrick production line is able to complete the whole process from auto material weighing&feeding, auto brick shaping, auto brick picking etc., which can achieve unman production workshop for refractory factory.

Different bricks have different usage, and the brick press machine also have different prices from tens of thousand to millions. Based on the process needs and usage, we can just choose what is suitable for us. We are business man and not for technology research, no need of buying the expensive one, only suitable is most important.