Why the friction press must be replaced by CNC press machine
Author: haloong Time: 2017-04-06 16:43
Why the friction press must be replaced by CNC press machine?
Since its inception, friction presses have played an important role in industrial development. But because of its energy loss,mechanical parts loss, low efficiency, labor intensity in the process of kinetic energy delivery,which has been far from being able to meet the needs of the new era of industrial production. China in 1999 has been included in the "elimination of backward production capacity, technology and product catalog", at this stage in individual industries, especially refractory industry, more comprehensive elimination of the trend of friction presses. And friction press is by manual operation, which led to large labor capacity, poor brick consistency, consumption of a lot of manpower and electricity. High energy consumption, poor security, maintenance and other issues.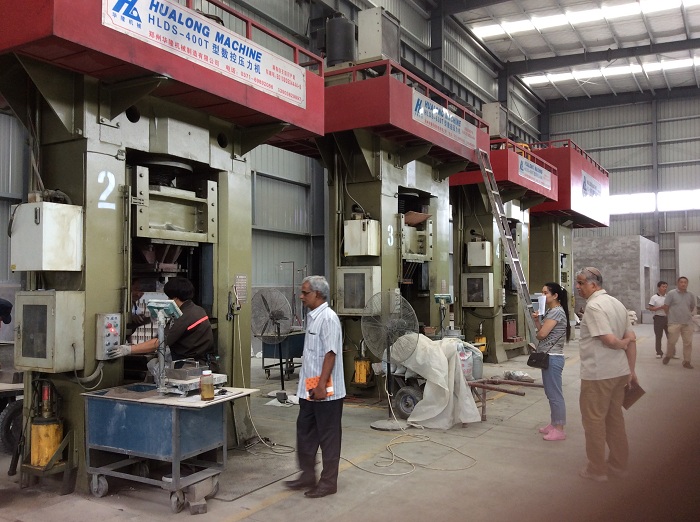 CNC press

machine as the most advanced electric screw presses, were widely used in machinery manufacturing, automotive, tractors and aviation industries such as stamping, forging and die forging, punching, building materials industry tiles, ceramic tile dry pressing , Especially the refractory industry, such as molding processing and so on.
The application examples of the HLDS series CNC

press machine

of Zhengzhou Haloong Machinery Manufacturing Co., Ltd include examples of refractory stereotypes, hand tools, various tiles and tiles, and refractory for metallurgical, building materials, electric power and petrochemical industries. Materials, such as high-alumina bricks, clay refractory bricks, magnesia bricks, honeycomb lattice bricks, andalusite brick, light insulation brick, profiled brick, burner combination brick, carbon brick, silica brick, phosphate brick, Carbon brick, fire-resistant ball, such as hundreds of bricks.
Before the advent of CNC presses, friction presses were used as a versatile pressure processing machine and were widely used in various industries of pressure processing. But because of its high energy consumption, product qualification rate is low, poor security, maintenance and other shortcomings, has been the country as a phase-out products included in the "product structure adjustment guide directory." The technical performance and practice of CNC press machine have proven to be the best alternative to friction presses. Part of the enterprise and

CNC presses manufacturer

to cooperate in the friction press transformation, but also to achieve the function of CNC press machine. At this stage of the pressure processing production, the use of CNC press is not only the national environmental policy requirements, but also the relationship between the development of the industry and the inevitable trend of corporate interests.
Zhengzhou Haloong Machinery Manufacturing Co., Ltd. have specilized in Servo Press machine, electric screw press machine,firebrick press,refractory brick press machine,forging press machine,CNC press,friction press reform for 37years.
Skype:haloongpress
anyway,it always be my honor to reply all your qustiones about press machine